Bernard Jay is an early product of the British baby boomers' era, born in 1946 in Yorkshire, England.
As a very young theatregoer, he became enamoured and enchanted by the sheer magic of live theatre. Fortunately for future theatregoers, he also became aware of his lack of talent to become a performer on stage.
For over five decades, Bernard has had the privilege of a career conducting the business of showbusiness. He has managed theatres, produced stage shows across the globe, negotiated and overseen artists' movie and recording careers and given re-birth to the art of cabaret in London in the 1970s by presenting major American stage stars at Chelsea's Country Cousin Supper Room.
Amongst his many stage projects, he lists the following as definite career highlights: The Pleasure of His Company starring Douglas Fairbanks Jr; Hedda Gabler starring Glenda Jackson; I Do! I Do! starring Rock Hudson and Juliet Prowse; Sir Michael Redgrave in the anthology Shakespeare's People; Tom Eyen's The Neon Woman, starring Divine and Holly Woodlawn; and several reincarnations of Earl Wilson Jr's sexy musical, Let My People Come.
After eleven years of running his own personal management company based in New York, Bernard relocated to South Africa in 1993.
From 2000 to 2013, he held the positions of Chief Executive Officer and Executive Producer at Joburg Theatre in Johannesburg. During this period, Bernard brought South Africa back into the global family of first class touring stage productions such as Spirit of The Dance, Le Grand Cirque and Burn the Floor. He also served as executive producer of original, non-replica musical productions The Boys in The Photograph, Fings Ain't Wot They Used T'Be, Starlight Express, Monty Python's Spamalot, Sister Act and The Color Purple.
Bernard now operates from Johannesburg as an independent theatre producer.
Bernard's first book, Not Simply Divine! – a memoir of his roller-coaster decade spent as personal manager to the American movie and disco star Divine – was published in 1993 in the UK by Virgin Books and a year later in the USA by Simon & Schuster. Since January 2019, Bernard has been working on his second book, an autobiography tentatively titled The Way I Saw It.
This update: April 2021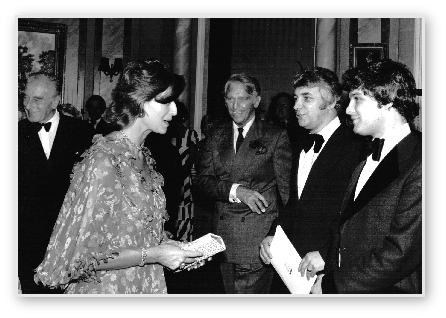 with former South African President Dr Nelson Mandela at
Joburg Theatre's Nelson Mandela Theatre, 2002
with Lord Louis Mountbatten, HRH Princess Alexandra,
Douglas Fairbanks Jr and producer Paul Elliott on the set of
The Pleasure of His Company in London, 1976