Bernard is an early product of the British baby boomers' era, born in Yorkshire. As a very young theatregoer, he became enamoured, enchanted and impassioned by the excitement and the escapism – the magic - of live theatre. Fortunately for future theatregoers, he also became aware of his sheer lack of talent to become a performer on stage.
For the past fifty-four years, Bernard has enjoyed the privilege of a career conducting the business of showbusiness, frequently finding himself massaging the egos of major movie stars, legendary knights and dames of the world's stages, cabaret divas and drag queens. He has been closely involved at an executive level – in one way or another – with literally hundreds of stage shows across the globe. Of these, he recalls the following episodes with especial fondness.
In the '60s: movie star John Fraser's first play Cannibal Crackers; the revue Rogers and Starr Run A-Mock; and An Evening with Annie Ross. In the '70s: the comedy The Pleasure of His Company, starring Douglas Fairbanks Jr and Stanley Holloway; the musical I Do! I Do!, starring Rock Hudson and Juliet Prowse; the anthology Shakespeare's People, starring Sir Michael Redgrave; and the UK debut cabaret seasons by American performers Barbara Cook, Peter Allen, Charles Pierce, Holly Woodlawn and Wayland Flowers. In the '80s: Divine in Tom Eyen's comedy The Neon Woman; and several reincarnations of the delightfully risqué musical Let My People Come. In the '90s: working for the first time with the actor Tobie Cronjé in the musical Summer Holiday; and one performance of the opera Aida to an audience of 40,000 at Loftus Versfeld Stadium. In the early 21st century, the musicals: Thoroughly Modern Millie; Lionel Bart's Fings Ain't Wot They Used T'Be; Andrew Lloyd Webber and Ben Elton's The Boys in the Photograph; and Sister Act.
Bernard relocated to South Africa in 1993 and from 2000 to 2013 he held the position of Chief Executive Officer and Executive Producer at Joburg Theatre in Johannesburg.
Bernard now operates from Johannesburg as an independent theatre producer. His current and future projects include the South African premiere production (2018) and subsequent international tour (2020/21) of the musical The Color Purple and the Janice Honeyman written-and-directed pantomimes Snow White (2018), Jack and the Beanstalk (2019) and Cinderella (2020) at Joburg Theatre.
Bernard's first book, (the apparently controversial) Not Simply Divine – a memoir of his eleven years spent as personal manager to the American cult movie star, Divine – was published in 1993 in the UK by Virgin Books, in 1994 in the USA by Simon & Schuster and then in 1996 in Japan.
Latest Update: December 2018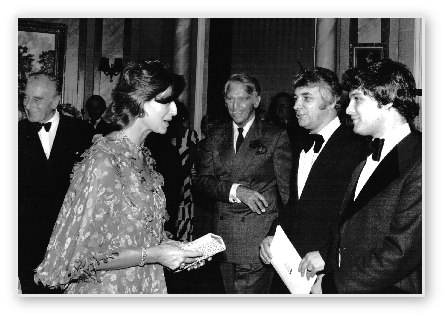 with former South African President Dr Nelson Mandela at
Joburg Theatre's Nelson Mandela Theatre, 2002
with Lord Louis Mountbatten, HRH Princess Alexandra,
Douglas Fairbanks Jr and producer Paul Elliott on the set of
The Pleasure of His Company in London, 1976